i waited and waited …
There you are finally yesterday [Team Acid Black Chery] announced  Acid BREAKERZ Cherry ~69 SixNine ~ GOODS with their last post on their Official Ameblo. It is kinda weird for me ne how they announced the GOODS just 2 days before the Live it self started today January 9th at Nippon Budokan.
so that's why me and my tiny little boring brain after didn't see the link to The Official Online Shop on [Team Acid Black Chery] post thought if all the GOODS is gonna be a venue available only. and then i  freak_ed out and ended spamming my friend
minlilin via twitter about this …. wekekekeke Karen i am so sorry dear  *granny laugh* …

look at the T-Shirt, isn't it lovely? I love it. I think this 69 live T-Shirt is more sexy than the last Erect. I am gonna buy that, i hope Tatiana will able to get it for me. She is so lucky to be able to see today's Acid BREAKERZ Cherry Live at Budokan and she is very kind by sayin yes, sure when i asked her to buy me those GOODS that i thought will be available to buy on the venue only,
But i was wrong ne, because it is only for that collaboration of blue muffle towel by Acid Black Cherry and BREAKERZ above is venue only . Now i wonder what will this almost broomance yasu and DAIGO will bring on tonight's 69 Live.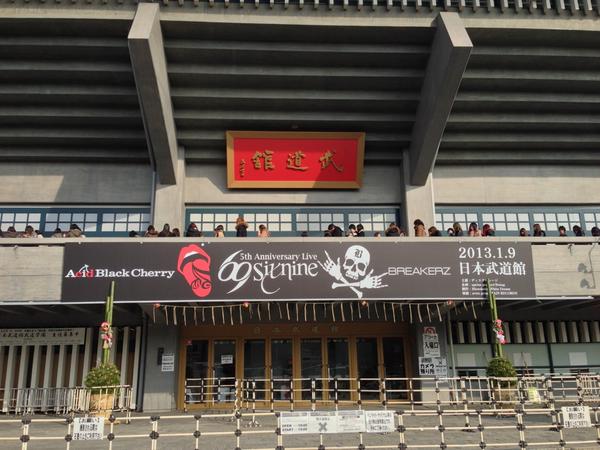 source and credit : 翔見@ABC5th
yes, 69 Live is more easy to say that 5th Anniversary Acid BREAKERZ Cherry -69Sixnine- Live ne ….  ahahahaha. That's why today 69 is everywhere, and i think i'm getting lost inside this 69 euphoria. Like when somebody asked me where do you buy that yellow coat? i answer her with
I bought it on Shibuya 69
instead of Shibuya 109. what a messy ne, i mean how far is from 109 to 69? it's only 40 numbers ne, but today seems like that 40 numbers between 69 and 109 is become more wide so i stuck in this 69.
~  69 for yasu and DAIGO live together today,
~  69 for 1969 where Leader_sama TETSUYA was born and Neil Amstrong did his first step at the moon and make history
~ and of course 69 for sex/making love position …. kyaaaa aha aha aha  …*dumped to Limbo*
2 days ago DAIGO posted that image of all the members who will join today's 69 Live via his twitter account with some tricky question whether if you can find which one is yasu, DAIGO, HIRO, AKIHIDE, …. etc etc hand is … What a tricky question ne, well done DAIGO
i know yasu's hand is next to DAIGO's hand but the question is which one is DAIGO's hand? ….. @_@
then DAIGO  gave the answer , he is not gonna let all his followers with no answer ne, and aha i think i grabbed the right hand for yasu's hand.
i know that's him and now what i am waiting for than the Set List of 69 Live is there any possibility of yasu and DAIGO will perform Daitokai together? OMG i am sooo sexcited with this …
Today is the day where i am gonna change the way i post here. actually nothing is change. Yes, it still the same but let's just say this Noi Himura's Blogs already upgraded into the another level, to be more private for specific posts. And this is what i want you to remember because i only say/write this once :
~ noiloveyasu
~ bahama221b
~ yasu_noi_haido
~ abucketofABC
that's the MAGIC words/key …
and surprise surprise, look what [Team Acid Black Chery] just tweet_ed ..
there will be a live streaming on ABCD Broadcasting Station ABCD放送局 on USTREAM for today 69 LIve. The time is hasn't decided yet, so you all better stay tune to  ABCD放送局 here
http://www.ustream.tv/channel/abcd放送局
nah because recently my net connection choose to follow Capt. Slow a.k.a James May being slow, i am not sure i am gonna able to see this live when they are live. But  i hope there will be a recorded one like they always do
so this is i am gonna say  n'est-ce pas? .
…. yes, n'est-ce pas  .. it's from France language and say it, and listen to yourself ne, It sounds beautiful isn't it?, Monseur POIROT say it a lot ne. Not only that, my dear friend Yukiko also put that n'est-ce pas as her Blog title …
OK last but not least 2 days ago i saw this hashtag on twitter #MentionAGoodCouple …  then who should i mention to?
yasu and DAIGO or me and Mr. Friday? ah no it supposed to be me and Mr. Friday …
yasu      :     again, that's boring noi_chan …
noi         :     really? …
yasu      :     yes, very boring ..
noi         :     well then, tomorrow is gonna be boring ne, …
~owari~